Greece might be in the midst of battling a seriously floundering economy and widespread socio-economic instability, however, thanks to its reliably wonderful weather, beautiful natural scenery, plus the admirable resilience of the nation's people – alongside glimmers of hope in terms of starting to get things back on track – it nevertheless remains a hugely popular holiday destination and 2013 is set to be a bumper year in terms of tourism.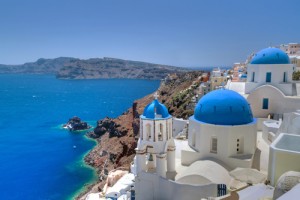 Indeed, despite being choked with debt and bristling with various knock-on effects of the worst financial crisis the country has experienced in modern times, Greece is picking itself up and dusting itself down and preparing to receive 17 million tourists throughout 2013 – an all-time record. Forging a much-needed revival of Greece's tourism industry are tourists from the UK, Germany and Russia. In light of the influx of sun-seeking, cash-wielding tourists set to descend on Greek shores over the coming months, the country's prime minister, Antonis Samaras issued an appeal asking the people of Greece to "put on our best face to foreigners" and urged that careful attention be paid to the quality of hospitality, services and prices offered to tourists across the country.
One thing that is more often than not on Greece's side is the weather. Presently, temperatures across Greece range from late 20s to late 30s with plenty of sunshine and next to no rain rounding things up nicely. So, definitely don't rule out Greece this summer, it's long been a leading light in Europe's tourism sector, and despite continuing challenges and an on-going mire of financial woes, Greece's gladiatorial spirit is alive and kicking. 

Kefalonia
Located on the West coast of Greece, Kefalonia is the largest of the Ionian Islands and has long been a popular holiday destination for discerning travellers in search of their own Greek odyssey. Boasting fantastic weather, beautiful beaches, picturesque villages, rugged mountains, verdant vineyards, spectacular coastal cliffs, fine cuisine and friendly people, Kefalonia has captured the hearts of many. On the whole, Kefalonia remains unmarred by mass tourism and therefore retains an authentic Greek feel and charm. Lesser explored areas such as Paliki Peninsula further enlivens a visit to this stunning island well-known for its beauty and, yes, Captain Correli's bloody Mandolin.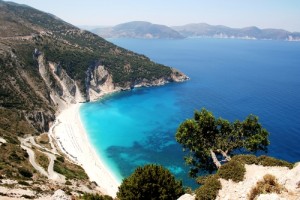 When to go
Kefalonia enjoys a warm, mild Mediterranean climate and is incredibly inviting weather-wise pretty much all year round, although to enjoy the hottest temperatures and plenty of guaranteed sunshine, head to the island during the peak summer months (May to August). The current average daily temperature is a very pleasant 23°C, potentially peaking at around 26°C and if it dips, the average low is 16°C. The average sea temperature in June is 23°C, so definitely warm enough to enjoy an enlivening dip, and with 10 hours of daily sunshine to enjoy you're likely to want to be within spitting distance of the sea.
What to do
Kefalonia is a large island with diverse and dramatic scenery just begging to be explored. Beautiful bays and tiny inlets, lovely lakes and mysterious caves, not to mention a plethora of superb beaches await you. An inviting mixture of small pristine pebbly beaches on the northern rocky coastline and long, sandy shores in the southern part of the island will appeal to your inner beach bum, while Mount Ainos – Greece's third largest mountain – is well worth dragging yourself away from the beach for with its fragrant dark pine forests and a rich array of flora and fauna. Fortunately, Kefalonia has a decent road network, so hire a car and get and about. Or, if you prefer to explore the island at a slower more scenic pace, Kefalonia offers excellent walking, cycling and horse riding. Kefalonia's stunning natural beauty and unique charm will likely keep you happily roaming the island for the duration of your visit, but if you do fancy a change of scene, the Greek islands of Lefkas, Zante and Ithaca are close by, so it's easy to hop on a boat to explore the Ionian shores. 
Where to dine
You'll eat and drink very well in Kefalonia that's for sure. The fantastic local cuisine and friendly family-run tavernas will ensure that eating out is a holiday highlight – just be prepared to go home with a bulging waistline! Delicious Kefalonia specialities include Kefalonia meat pie and Robolla wine, you'll also have plenty of opportunities to eat seriously fresh fish and tasty seafood.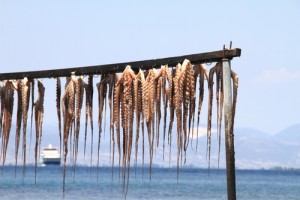 The Olive Lounge in Lourdas is well loved for its top quality, freshly cooked homemade food, excellent cocktails, flawless friendly service and stunning roof-top location. Families are welcome and even fussy kids are happily catered for.
Where to stay
Aeolos Beach Hotel in Skala will feel like a home from home – just with more sunshine and with someone making your bed for you. The owners of this hotel are extremely friendly and will do their utmost to make sure you have a relaxed and enjoyable stay. Peaceful, spotless, laid back and welcoming, this brilliant hotel boasts clean and spacious rooms, a lovely pool, wonderful sea views and fantastic food – what more do you need? Family-friendly, too. 
Ready to go? Click here to book you flights. Happy holidays!