Boasting a stunning sparkling coastline, pristine beaches and breathtakingly beautiful natural scenery, Turkey is a prime place for a spot of sailing. Known as the Turquoise Coast, the views range from dramatic to jaw-droppingly idyllic – with plenty of picture perfect vistas in between.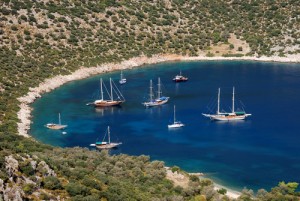 One of the best budget-friendly and utterly captivating ways to soak up Turkey's superb surroundings is by chartering a gület (traditional wooden boat) and skimming the ocean waves from Fethiye and Kale (Demre), taking in Ölüdeniz, Butterfly Valley, Kas, Kalkan and Kekova and Gökkaya Bay along the way. A less popular – but arguably prettier – route is between Marmaris and Fethyie.
Gület boat trips ordinarily include food and drink on board (although alcohol is sold on board) and most boats accommodate 6-8 people; sharing cosy double cabins. All boats will have showers and toilets, not all will have air conditioning, so on many gülets cabins are left empty come nightfall in favour of mattresses up on deck under the stars.
Top tips
Be careful who you book with, there are many boat tour operators to choose from – some of whom will take you for a ride (not of your life).
Check out your boat beforehand if you can, and get a clear idea about your fellow passengers (i.e. if you're looking for a peaceful trip with likeminded serene seafarers make sure you don't end up on a party boat). Plus find out whether your boat genuinely sails (or noisily runs on stinky diesel) and it may be worth establishing whether your captain and crew speak English before you set sail; a language barrier while out at sea may make your journey choppier than envisaged.
Look on travel forums on Tripadvisor for unbiased reviews and traveller pictures, and ask fellow travellers for tried and tested blow-by-blow accounts.
Bargain for the best deal but don't go with rock bottom prices, if it's sounds too good to be true…it probably is. Going dirt cheap will likely be reflected in the food and drink on offer on board and the condition of the boat and cabins. Remember, most boat trips are for 4 nights and 3 days, so choose wisely!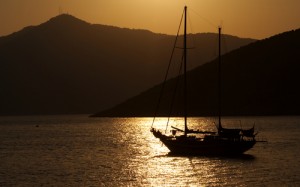 If you're hoping to set sail in July and August, book early and leave yourself enough time to do the above – don't just jump on a boat because it's leaving that day – and don't pay until day of departure (in case the weather takes a turn for the worst).
Avoid gimmicky extras such as free watersports, they often don't materialise and if even if they do, the boats rarely have insurance in case of accidents. Take your own snorkelling gear, that way you've always got the option of exploring beneath the waves on your own terms.
So, look around, do your research, check our your boat and crew, bargain (but not too hard), book early and avoid banana boats at all costs – easy.
Happy sailing!
Click here for a 14-day weather forecast, and here for some fantastic holiday deals in Turkey.