If you're jetting off on your honeymoon this year, be prepared to drop your recent nuptials into conversation everywhere you go; the hotel lobby, the restaurant down the road, the check-in desk at the airport…that's right, everywhere!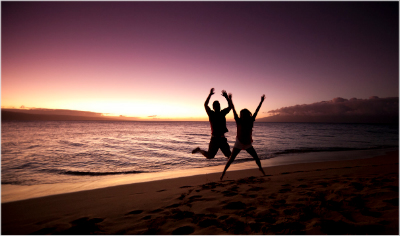 Happy couple, Maui, Hawaii © damien_p58
Sunshine.co.uk recently polled 1,874 newlyweds from around the UK, each of whom had already been on their honeymoon, and asked them all about their trip. What we found was a nice surprise, as the overwhelming majority of the newlyweds had been given freebies during their break.
Room upgrade most likely freebie to be handed to honeymooners
When asked, 'Were you offered any complimentary goods and services during your honeymoon when staff realised (or were informed) that you were newlyweds?' 74% of the respondents said 'yes'; suggesting that the overwhelming majority of honeymooners benefit from freebies. What a result!
These respondents were asked not to take into account goods or services offered as part of an 'all inclusive' deal they had booked (well, that would be cheating wouldn't it?) but what free goods they had been given. The top five most likely goods and services to be given to honeymooners, on a complimentary basis, were revealed as follows:
1. Room upgrade – 41%
2. Complimentary alcohol – 39%
3. Room treats/hampers – 25%
4. Free spa treatments – 19%
5. Complimentary meals – 13%
Average couple on honeymoon receives £430 worth of freebies
When asked to estimate the value of the goods and services they'd been given for free during their honeymoon, just for being newlyweds, the average respondent's answer stated '£430.00'.
Honeymooners can often benefit from freebies during their stays abroad, but our top advice for newlyweds would be to pack a copy of their wedding certificate as proof that they've recently married. Hotels and service providers will often ask for this, to prevent couples from telling a fib just to get an upgrade!
© Sunshine.co.uk