MSC Cruises has today unveiled a raft of measures aimed at raising its profile and sales in the UK cruise market.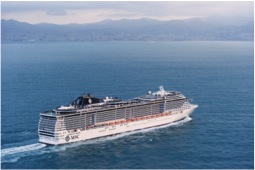 The Mediterranean specialist has pledged to more than treble the number of UK guests it carries within three years. Its ambitious 200,000-passenger target coincides with the launch of two new mega-ships in 2017, quickly followed by one more in 2018 and another in 2019, between them adding over 21,000 berths to its ultra-modern fleet.
Central to the growth plan will be the launch of dedicated weekly British Airways charter flights to Venice and Genoa in 2015, delivering passengers to six MSC Cruises ships operating out of those ports next summer.
MSC Cruises executive director UK and Ireland Giles Hawke said: "We intend to become a significant player in the UK cruise market in readiness for our new ships beyond 2017. That means making it easy for people to experience a cruise with us.
"We are also increasing our flying commitment from the UK four our Dubai Winter programme and adding flight capacity to the Caribbean for Winter 2015/16."
By operating its own charter flights, MSC Cruises will make cruising around the Med easier to book, a better customer travel experience and better value. To cater for the expected increase in demand, MSC Cruises has upgraded its call centre technology and is adding reservation staff at its London headquarters.
Furthermore, MSC Cruises is rolling out a new pricing structure that will ensure the best deals are always available to holidaymakers who book early. As well as accessing the lowest prices, early bookers will be eligible for upgrades and other onboard benefits.
MSC Cruises is already the world's third-largest cruise operator and leads the way in many European and worldwide markets. The four vessels currently on order represent an investment of more than €2.3 billion and will take the fleet to 16 ships – with a total capacity of over 61,000 guests. The cruise line also has an option for three more ships for delivery by 2022.
To reach its growth target MSC Cruises is putting travel agents at the heart of its marketing efforts. The cruise line today also released details of a comprehensive package of support for agents selling online and on the high street under the 'Serving You' banner, featuring higher commission payments, increased marketing funds, a faster and more intuitive sales platform and new online product training.
© MSC Cruises