Erica Bush explores Surrey and Hampshire by canal boat.
There's still time to sneak in a break before the weather across the UK takes a chillier turn, so how about hiring a canal boat and cruising along some of Surrey and Hampshire's idyllic winding canal? If the heavens open you can always pull over and moor up near the closest pub or duck below deck for a cuppa.
Canal boats, or narrowboats as they're often called, offer you the perfect opportunity to enjoy the English countryside at a wonderfully leisurely pace, stopping when you fancy a break ­– and a pint! Galleon Marine in Basingstoke offers some great deals in the peaceful setting of the Basingstoke Canal ranging from 8-hour day hires to one-week holiday rentals.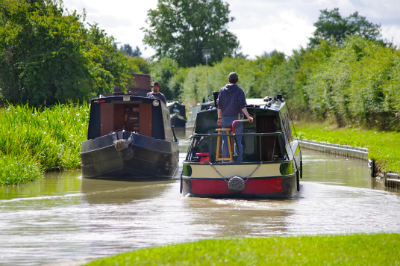 Basingstoke canal is very quiet compared to others, which means you will hardly meet any other narrowboats during your time on the canal. Even better, on short breaks, you will only have to negotiate one lock, so it really couldn't be easier. If you're concerned about driving the narrowboat and navigating the canals, the staff at Galleon Marine will provide you with full tuition and stay with you until you feel comfortable to go off by yourself. They'll teach you the ropes (literally!) regarding steering, stopping and turning (winding), as well as showing you all the facilities on board such as gas, heating and water, so you'll feel in complete control during your trip.
There are many things to do along the way, too. On the Day Hire, you'll leave at 10 am and begin your cruise, where from the moment you set off you'll see an abundance of wildlife and birds such as kingfishers and moorhens, while people fish, kayak and walk along the water. At certain parts of the canal, the water is crystal clear and you can even watch trout and other smaller fish swim through the reeds and water. Your first stop is a secluded sunny mooring where you can either grab a drink or a bite to eat at the nearby pub the Barley Mow or make use of the picnic benches to eat your own packed lunch. Continuing on, in a couple of hours, you will reach Odiham Castle, one of only three fortresses built by King John during his reign. Here you can stay for some tea and cake and then make your way back to the boatyard for 6 pm. Canal boats offer a rare opportunity where you can really kick back and relax and take things at an easy, laidback pace. After all, you can't drive faster than 4mph and a glass of champagne or a bottle of beer isn't frowned upon!
As well as lots of beautiful countryside pubs, on other routes, you will find the Rowhill Nature Reserve in Aldershot, Aldershot military museum, Farnborough Air Sciences Trust, crazy golf and bowling to name but a few. Canal boats are easy to moor up, meaning you can still enjoy day trips and long lunches while en route.
With a number of boats to choose from, ranging from two to eight sleepers all fully equipped with central heating and hot water, a bath, a shower, flush toilets, a flat-screen TV and an audio system, whether you're a family or a group of friends, you will have plenty of space and facilities. You can even bring your dogs for a small extra charge. For the full range of boats, click here.
So whether you opt for just a day or a full week, make sure you head down to the canal and jump on board to try this alternative way of seeing the countryside and all it has to offer.