From expanded cruise itineraries to splashy water thrills and rejuvenating retreats, summer 2013 turns up the heat with bags of holiday fun at Walt Disney World Resort in Orlando, Florida, USA.
To kick off a "monstrous" summer, Walt Disney World Resort and Disneyland Resort will keep three theme parks (Magic Kingdom Park in Florida and Disneyland Park and Disney California Adventure Park in California) open for 24 hours – meaning nonstop fun! During the 24-hour "All-Nighter" Magic Kingdom will feature a Monsters University theme where Mike and Sulley will be the Grand Marshals of the "Celebrate a Dream Come True" day parade – complete with pomp and circumstance – and make appearances in Tomorrowland. Guests will also find extra entertainment throughout the day and night, including characters in their pjs in Town Square during the late night and early morning, and late-night dance parties in and around the courtyard of Cinderella Castle.
Here's what else is in store for summer 2013:
MONSTROUS FIRST SUMMER FOR…
From the lofty spires of Beast's Castle to the fathoms-deep world of Ariel, New Fantasyland pours on its first summer of fun for Magic Kingdom guests. The new space doubles the size of Fantasyland and is the largest expansion in Magic Kingdom history.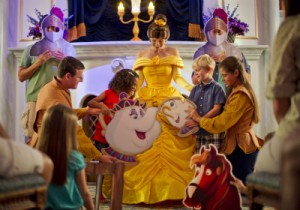 Be Our Guest Restaurant features a lavish dining experience in an elegant ballroom inspired by Disney's "Beauty and the Beast" animated film classic. By day it's a "great food fast" lunch pit stop, while at night it's full-service table dining featuring French-inspired cuisine.
Under the Sea ~ Journey of the Little Mermaid puts guests in clamshells traveling with Ariel and friends through their exciting adventures above and below the waves. Enchanted Tales with Belle takes guests to a far-off French village and right into the world of Belle, Lumiere and Madame Wardrobe — feeling transformed in the process.
Visitors to the resort can refresh with a frothy LeFou's Brew at Gaston's Tavern, while over at Storybook Circus, guests can take a spin on one of two Dumbos, dip and soar aboard The Barnstormer Featuring the Great Goofini or meet Disney characters at Pete's Silly Sideshow. There's more New Fantasyland to come as late 2013 sees the opening of Princess Fairytale Hall and all is on track for the spring 2014 opening of Seven Dwarfs Mine Train, a rollicking family coaster attraction.
Check out the Test Track presented by Chevrolet. The re-imagined iconic attraction puts guests in the designer's studio for an immersive experience as they create their own virtual concept vehicle before boarding a "SimCar" to race through a thrilling series of hills, hairpin turns and straightaways.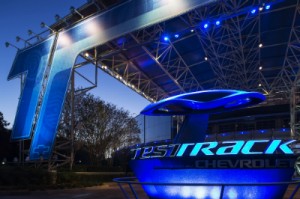 If bowling is right up your alley, come experience the hottest trend going by rolling over to Splitsville, at Downtown Disney West Side. The hip, retro-style emporium features 30 lanes across two levels, live entertainment, lively indoor and outdoor bars and upscale dining including sushi, filet mignon sliders and more.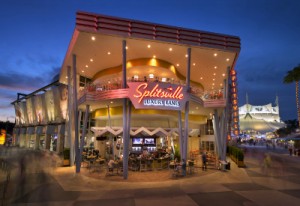 Limited Time Magic – magical experiences in all shapes and sizes that appear and disappear as the next special surprise debuts will continue with a weeklong Independence Day celebration highlighting the summer season; all part of Limited Time Magic at Disney Parks. Independence Week will be red, white and blue as Disney Parks celebrates America with a 4th of July Fireworks Party – for an entire week. Guests enjoy an extra dash of pixie dust each week in 2013. Limited Time Magic takes its inspiration from those special, but fleeting, moments when families spend time together with shared experiences.
Disney's Hollywood Studios guests get a real summer treat as Doc McStuffins and Sofia the First have been added to the onstage fun – joining the latest, most popular characters and stories from the Disney Junior line-up on television. Sofia the First as a series premiered earlier this year on Disney Channel and Disney Junior.
The Legend of Captain Jack Sparrow gives Disney's Hollywood Studios guests a chance to become immersed in the action and adventure of the four Pirates of the Caribbean films. Buccaneer wannabes journey deep into an eerie lost grotto, where they are put to the test to see if they have what it takes to sail with Captain Jack's crew.
MONSTROUSLY NEW
Joining the resort's sister spa at Disney's Grand Floridian Resort, the new Senses Spa at Saratoga Springs will be a late summer highlight and is inspired by the healing properties of natural springs that have drawn people for centuries to Saratoga Springs in upstate New York. A completely redesigned space, Senses, A Disney Spa At Disney's Saratoga Springs Resort, will feature 10 treatment rooms offering an array of services including water therapy, massage and facials. Senses will incorporate the springs, nature and the storyline of health in its design and theming.
Disney's Animal Kingdom guests are invited to become Wilderness Explorers and experience the park in engaging and challenging ways aimed at deepening their understanding of animals and the natural world we live in. Inspired by Russell, the wilderness explorer in the DisneyPixar film Up, park guests can earn approximately 30 badges as they accomplish activities ranging from habitats and animal nutrition at Conservation Station to fossils and signalling in DinoLand U.S.A. Wilderness Explorers troop leaders are located throughout the park to enlist new explorers, distribute the "Wilderness Explorers Handbook," which contains a map with all of the badge locations and requirements, and teach the wilderness explorers call – "the wilderness must be explored!" Taking the official pledge, armed with their field guides and earning sticker badges along the way as they complete their challenges, guests can explore the park at their leisure. Aimed at guests 7-10, but fun for the entire family, Wilderness Explorers is self-guided and encourages more "up close and personal" time with the animal inhabitants of the park. Headquartered on Oasis Bridge, Wilderness Explorers is included in Disney's Animal Kingdom admission.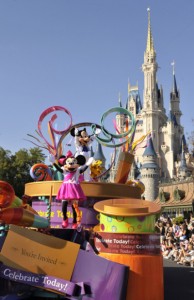 New meet-Up with Mickey, Minnie at Disney's Animal Kingdom – Mickey Mouse and Minnie Mouse now welcome Disney's Animal Kingdom guests to their new exploration headquarters, Adventurers Outpost, on Discovery Island. The all-new indoor retreat is the perfect spot for guests to meet the globetrotting duo as they get ready to set off on their next adventure.
"A Pirate's Adventure: Treasures of the Seven Seas" is a new interactive adventure inviting Magic Kingdom guests to set a course for swashbuckling fun with Captain Jack Sparrow. At the Enlistment Quarters (near the Pirates of the Caribbean attraction), adventurers sign on to join Captain Jack's crew, choose one of five pirate "raids" (with accompanying treasure map) and set out on their journey to find the Treasures of the Seven Seas hidden around Adventureland in the Magic Kingdom. The mission is urgent, too. Ships of the British Royal Navy are fast approaching in their quest to rid Adventureland of pirates once and for all. If guests are successful in helping Captain Jack find the treasures, he can foil the Royal Navy. Guests plunge into the action armed only with their pirate map indicating the locations they will need to investigate and a magical
Page 2 of 4 – Disney Season: Summer 2013 talisman that they will tap against mystical objects marked with symbols hidden in the environment, triggering fantastic special effects and advancing the story. Guests of all ages are welcome as they join Captain Jack and fight off the Royal Navy, Captain Barbossa, headhunters, curses — and the greatest threat of all, Calypso, the sea goddess. Each raid lasts approximately 15-25 minutes. If they help Captain Jack succeed in all five missions, guests unlock the epic finale to their adventure and they will be welcomed as part of his new crew. If not, they face the wrath of the cruel sea…alone.
Disney Dining tuns up the heat – coming by summer's end will be a re-imagined California Grill crowning Disney's Contemporary Resort. Guests will experience a beautiful new dining room, onstage kitchen and new dining choices; chef Brian Piasecki will keep the focus on creative, fresh, seasonal dishes and top-of-the-line sushi. At Epcot, what says summer better than ice cream? In France, L'Artisan des Glaces, an artisan ice cream and sorbet shop, features 16 yummy flavours, all made in-house with fresh ingredients (with the option of adding a shot of liquor on top, for grown-up tastes). Guests to France also will find Les Halles Boulangerie Patisserie, with delightful French sweets and savouries, and Monsieur Paul for upscale dining that pays homage to celebrated chef Paul Bocuse. U.S.A., the Main Street Bakery officially reopened at Magic Kingdom park in mid-June.
This summer, Disney Cruise Line returns to Europe with an expanded menu of Mediterranean cruises aboard the Disney Magic including new destinations such as Venice and the Greek Isles. In addition, the Disney Wonder will once again sail to Alaska, inviting families to explore the grandeur of America's 49th state with a wide variety of port adventures. Click here to learn more about Disney Cruise Line.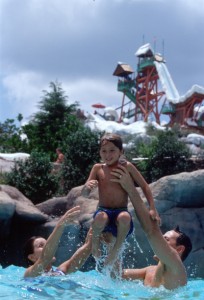 MONSTROUSLY COOL SUMMER
Disney's Water Parks Add Fun To a Walt Disney World Vacation – Walt Disney World Resort guests can cool off during this summer in a tropical getaway or in a ski resort-themed water park. At Disney's Typhoon Lagoon guests can snorkel with sharks, stingrays and tropical fish in a coral reef, plunge down rushing rapids, sunbathe on the sandy beach and glide down a lazy river. A melting ski resort where a freak snowstorm hit Florida, Disney's Blizzard Beach is home to some of the most thrilling water rides in the United States, while also offering guests a tranquil river to float down or a great place to sunbathe on the beach. For the most up-to-date park hours, click here.
For a 14-day weather forecast, click here.
Happy Disney holidays!