Welcome to Algarve. Here, down at the south-western tip of the continent, and the furthest corner of Portugal, you'll feel like you've reached the end of the earth, not just Europe. Jack Pitts explores…
With dramatic plunging limestone cliffs, sun-drenched beaches and an ocean that is so dazzlingly blue you can't tell where the sea ends and the sky begins, it's not hard to see why Algarve is a top holiday destination for tourists from all over the world. Here's a handy guide covering when to go, where to go, what to do and where to dine.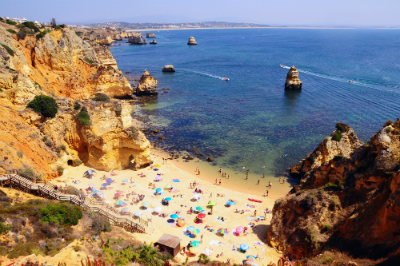 Algarve beach, Portugal © Rodrigo Gómez Sanz
When to go?
This far south the weather is almost never bad and with little seasonal variation, you can expect blue skies and sunshine for most of the year.
Unfortunately, hopping over during the high season during July and August, you'll have to share those blue skies and sunshine with a few thousand other holiday-makers – it won't hinder your tanning but you might get impatient queuing for ice cream.
The ideal time to visit is October to March when prices are low, tourists are few and the UK is wet and cold. Algarve gets more than 3,000 hours of sunshine per year, and even in the depths of winter temperatures can rise into the 20s. Right now it's around 15C (just to remind you, that's about 10 degrees warmer than London!).
Where to go?
Algarve itself is a big place, 2000 square miles in fact, so there's a lot of variation. Generally, the region is divided into three areas: east, west and central Algarve, each of which has its own appeal.
The west of the region is more rugged and wild with fewer inhabitants. The stunning Parque Natural do Sudoeste Alentejano e Costa Vicentina hugs the coastline for 80 miles, where its often empty beaches are temples of pure relaxation.
Sunset party, Praia da Rocha Baixinha/Falésia, Vilamoura, Algarve © Jota
It is here also that you can find Cabo de São Vicente (Cape St. Vincent), a sacred place for millennia and the most westerly point of Europe, nicknamed the "End of the World".
To the east, past the capital Faro, is a landscape less dramatic but no less beautiful: jagged crags relent to rolling hills with whitewashed villages nestled between them.
The central area is best known for Quinta do Lago, Vilamoura and Vale do Lobo, a land of luxury resorts dubbed the "golden triangle". Here you can find any number of top-quality hotels and restaurants. You can also find that type of nightlife that sometimes becomes morning life.
What to do?
People come to Algarve for different reasons. Some come for the sea air and wild beaches of the west, while others come to sip cocktails and sample the coast's impressive 30 golf courses.
But as the area consists mostly of beaches, the region's main appeal is its golden sands and plentiful sun. Many of these beaches have been awarded the prestigious blue flag award, but others, particularly in the south, are hubs for beach bars and late night parties. However, there is much more to Algarve…
It's famous for its water sports, its big waves and sunshine, making it a magnet for kitesurfing and surfing. To join the swell, try Algarve Watersport or Kitesurf EOLIS.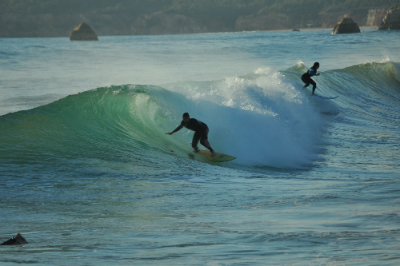 Surfers, Algarve, Portugal © Tiago Fernandes
Those who require less adrenalin can enjoy the modest array of walking trails or drink in some of the stunning Moorish and Roman ruins, which can be found across the region.
Once you are tired of beautiful sunshine and golden sands (ha, as if!) the inland region is littered with elegant Portuguese villages.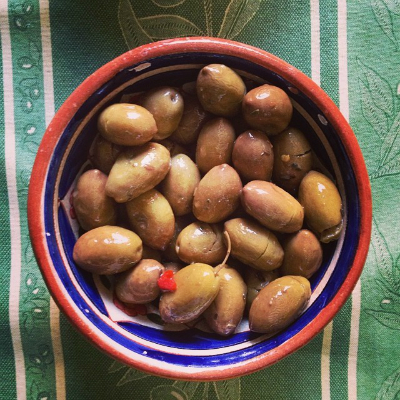 Olives © Marco
Where to dine?
Algarve is famous for its olives, and driving around you will see rows upon rows of the distinctive little trees – enjoy these tasty treats as often as you can while holidaying in Algarve, ideally alongside a large glass of spicy Portuguese red wine.
It's the seafood, though, that you must not miss. There are few greater pleasures than sampling the local sea life just a few hours after it's been caught. Find somewhere that looks out to sea, Aventura or Rossio will do, order something you've never tried before, open another bottle of Portuguese fine wine, and watch the sun set over the edge of the world.